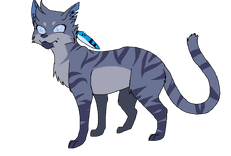 Spoiler Warning: ''Plot and/ or ending details follow.
Wel I culdn have kids with a stcik now culd i?"
-Jayfeather about Stick
Jayfeather is a blind tom and dies once, although he comes back to life again.
Appearance
Edit
Jayfeather is a gray tabby tom with sightless, blue eyes.
Love Interests
Edit
Jayfeather's first love interests were Stick and Dawnsparkle. He chose to be with Dawnsparkle because he couldn't have kits with a stick.
Mate:
Dawnsparkle: Living
Daughters:
Gleamstar: Deceased, verified StarClan member
Flamepelt: Living
Lakepool: Living
Daughters in-law:
Redfur: Living
Jazzstar: Living
Son in-law:
Nightrain: Living
Mistakes
He is killed by Hollyleaf but however he comes back to life later in the book... somehow.
In warriors reality, Jayfeather wouldn't be able to have his mate, Dawnsparkle, or his kits, because he is a medicine cat.
https://stampywolf999.deviantart.com/art/Jayfeather-723415654 Jayfeather as drawn by StampyWolf999 on DeviantArt