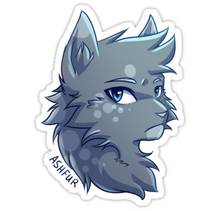 Ashfur is a gray tom with blue eyes and dark spots.
Interesting Facts
Edit
While in this story he is in the Dark Forest, in the actual series he goes to StarClan.
He creates SatanClan with Hawkfrost, which is actually the Dark Forest.
Mistakes
Edit
He has been mistakenly called AssKit, Ashfuru, AshFurtk, AshPaw, and AsgKit.
He has been called Ashkit as an apprentice, Ashpaw as a kit, Ashkit as a warrior, and Asfur as an apprentice.